What are the benefits of using knotted skewer?
Views: 0 Author: Site Editor Publish Time: 2021-02-23 Origin: Site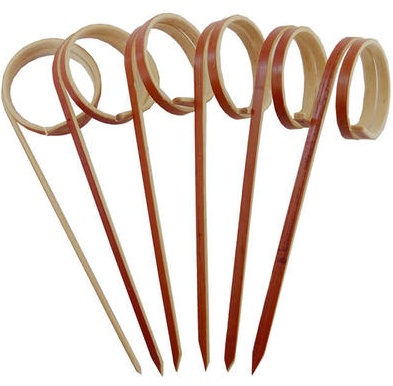 Knotted bamboo skewers have recently become one of the most popular cooking tools. What can you do with knotted skewers? What's so special about knotted bamboo skewers?
What can you do with knotted skewers?
What are the advantages of knotted skewers?
What can you do with knotted skewers?
1.Kebabs on the grill. Remove the meat and vegetables with knotted bamboo skewers (after soaking). If meat and vegetables are to be used for kebabs, the meat must be precooked so that it can be heated. Otherwise, when the meat is cooked, the vegetables will turn into charcoal.
2.Fruit string. Just like above, you can place fruit cubes of similar size on knotted bamboo sticks, cool and serve. They work better when paired with yogurt or cream cheese dips or chocolate fondue.
3.Fresh vegetable skewers. Whether you cook or not, skewers make vegetables infinitely attractive to children. Novelty may turn vegetables into small bags that would otherwise not get in. Like fruits, they may be even better if you taste them with them.
4.Knotted bamboo skewers are cheap, and they are perfect for holding things in place when you paint or cover them with icing sugar. When we made Grace's Princess cake, I fixed the peaks with strings after the frost had melted but before it dried.
5.If you use clay or paper for beads, or dough for ornaments, poke a hole in the string with a knotted bamboo skewer to thread it. Knotted bamboo skewers are designed to prick things, so they're perfect!
6.Whether you're using edible food (think flowers cut from a fruit or cake ball) or non-edible products (paper, felt, ribbon flowers or buttons), knotted bamboo sticks can be used as stems. Press the other end into a piece of styrofoam or place them in a tall glass or vase for a nice bouquet shape.
7.You can attach a spoon, shell, or any other clumsy fragile object to a fishing line and hang it on a string you've drawn. Wind chimes are made by tying some of them on a knotted bamboo skewer.
What are the advantages of knotted skewers?
Today, slender bamboo poles can be used for a variety of purposes, including darts, chopsticks, toothpicks and skewers. Bamboo skewers replace the metal ones used in many barbecue and service tasks. A knotted bamboo skewer is used almost as much as a metal string. Bamboo does not give acidic foods a metallic taste. Affordable bamboo skewers cut costs and can be mass-produced for barbecued dinners without the need to buy lots of reusable metal skewers. Bamboo skewers are biodegradable and can eliminate cleanup without adding landfills. Sustainable environmental approaches include replacing plastic disposable tableware with bamboo equivalents.
Knotted bamboo skewers appear in more varieties than the long straight skewers used in barbecues. The service string consists of a simple grip, formed from curved bamboo slips. After shaving, the craftsman slides down the bamboo path until it bends, then bends or knots the path, making only a small handle. The paddles incorporate larger bamboo areas in the post-execution appearance and provide greater grip for the heavier parts.
Knotted bamboo skewers are affordable, environmentally conscious and durable, and can further enhance their positive impact on the environment by encouraging the development of bamboo forests.If you are looking for high-quality knotted skewer that are reasonably priced, safe and hygienic, Shucheng Ancheng Bamboo&Wood Factory will provide you with the best products.